We at Voice To Me work with sound and spoken information in all its forms. We mediate and produce over 8000 jobs on an annual basis. It can be a telephone exchange, an elevator message, an advertising jingle, a podcast or a long e-Learning course in a variety of languages.
One category that has grown explosively in recent years is Audiobooks. Together with its own production company Audio To Me, Voice To Me is today Sweden's largest supplier of audio books in the education sector. Over the past 10 years, we have made thousands of books for elementary, high school, and college.
In the sign of Pandemic, the demand for audiobook novels has also increased explosively, something we at Voice To Me think is great fun.
Sometimes we receive requests that are a little out of the box and that require a little extra from everyone involved. Something we think is extra fun and challenging.
The author Bengt Bohm contacted us on Voice To Me a couple of weeks ago and was looking for a voice that could read his book. Since the book took place in the 17th century, it was important that the reader could live into the story and understand the meaning. We came up with some suggestions for voices that we thought were suitable for the task and together with the customer came to the conclusion that our talented voice Lars was a perfect match.
Lars really understood the assignment and delivered exactly the style the customer requested.
Here you can read the review from the customer: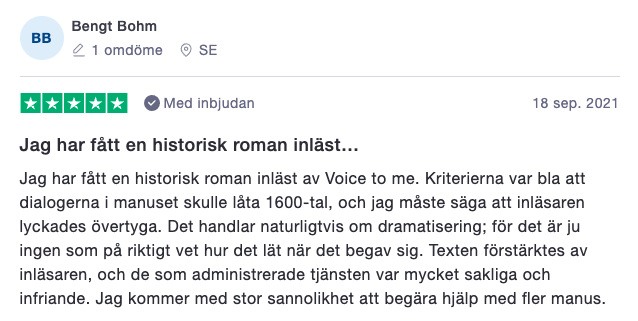 A big thanks you to Lars who worked very well with this book and thanks to the customer for a fun collaboration.
Here you can listen to the audiobook:
https://bokon.se/ljudbok/spetalet_bengt-bohm-2/
Do you have an audiobook you want help with? Or do you have any questions or ideas you want to discuss with someone?
Do not hesitate to contact us and we will be happy to help you. As we said, we love audio books ..